Parenting from Prison: Engaging Families in Supporting Reintegration
ICPA's exclusive, member-only Learning Academy returns for 2023 to focus on a critical challenge facing correctional professionals worldwide – the impact of parenting and family connections in prison and on release. In this two-part series, participants will hear from prominent academics and practitioners in the field and have the opportunity for active discussion with the speakers and other participants.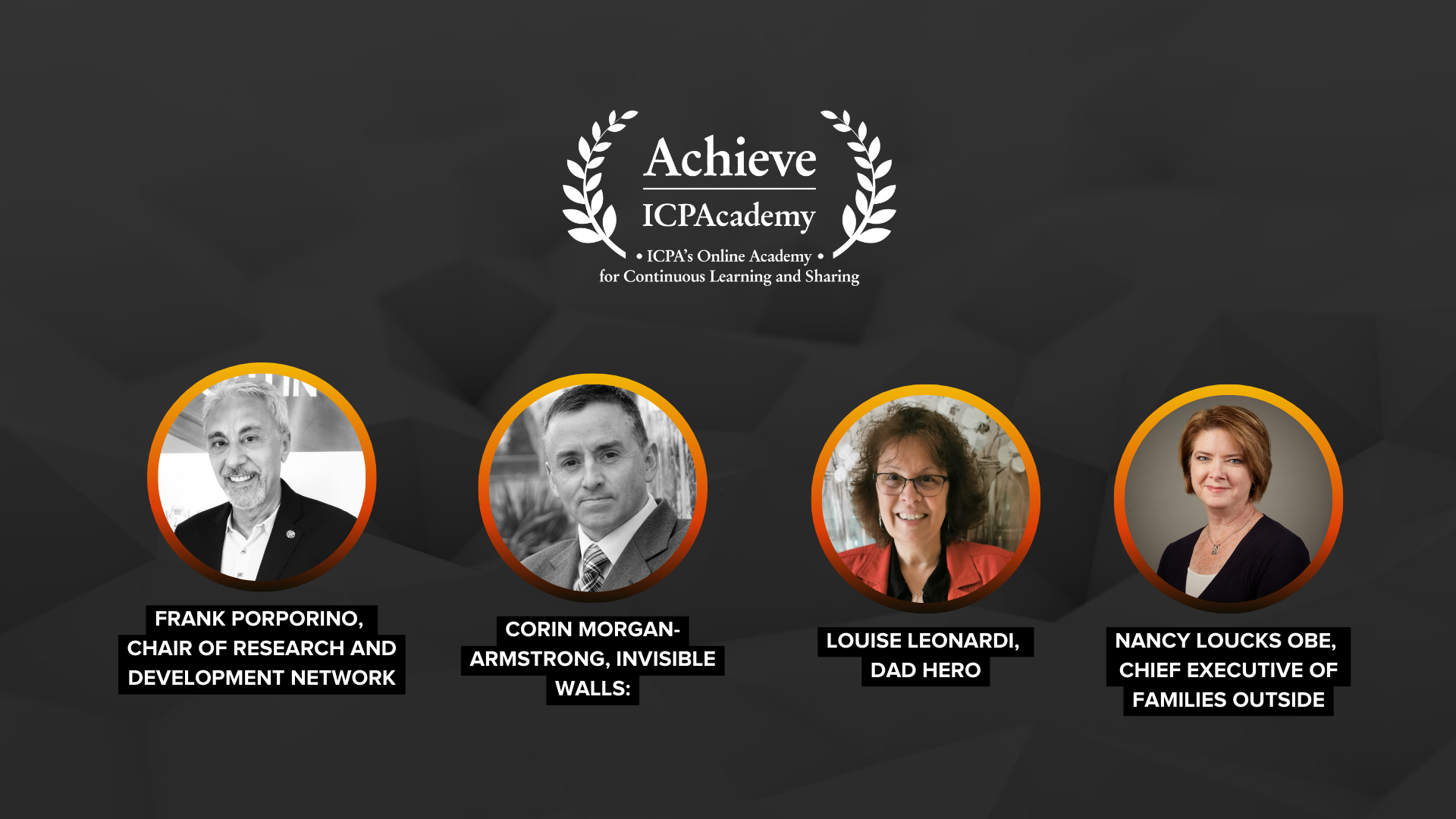 Key Dates
Session One (90 minutes): Speaker Presentations
20 November 2023 @ New York (0700) / London (1200) / Brussels (1300) / Singapore (2000) / Sydney (2300)
Session Two (90 minutes): Question and Answer / Discussion
27 November 2023 @ New York (0700) / London (1200) / Brussels (1300) / Singapore (2000) / Sydney (2300)
Participants will be provided with reading material to deepen learning between sessions. All participants who attend both sessions will be eligible to receive a certificate of attendance.
The sessions will examine how parenting programs have succeeded in improving outcomes for prisoners and their families, the challenges faced in implementing these programs, and discussion on what others can learn from these programs.
The Learning Academy sessions will be moderated by Frank Porporino, chair of ICPA's Research and Development Network. Frank has a Ph.D. in clinical psychology and has sustained a close to 50-year career in corrections where he has focused on promoting evidence-informed practice as a front-line practitioner, senior manager, researcher, educator, trainer, and consultant.
Programme
Invisible Walls: Whole Family Approach
Corin Morgan-Armstrong
Corin Morgan-Armstrong will start the Learning Academy by sharing from his experience overseeing the innovative Invisible Walls program in Wales, which began in 2006 at HMP Parc, a G4S managed prison in Wales, UK. Invisible Walls was designed to create an approach to positive family engagement whilst in custody that would embrace not only the existing research that supported the importance of prisoners remaining in contact with family members, but also emerging practice from interventions being delivered at the time in HMP Parc.
The presentation will discuss the three core elements of the program: the overhaul of the prison visiting experience, the creation of the first Family Interventions Unit, and the development of a small mentoring team who engaged with the prisoners on the family unit. Corin will finish his talk by discussing how the program has expanded and flexed over this time, and how the team has supported other jurisdictions to begin to invest in family-focused activities.
Dad HERO
Louise Leonardi
Louise Leonardi, Executive Director, Canadian Families and Corrections Network charity, will speak to her experience implementing the Dad HERO (Helping Everyone Realize Opportunities) parenting program. Dad HERO, which started in 2015, is dedicated to offering parenting skills in an engaging manner; to helping fathers be accountable to their children and families while in prison; to strengthening social connectedness as an asset to prison resiliency and correctional planning; and to strengthening the family unit for reintegration success.
Through her presentation, Louise will discuss how the program has operated successfully, looking at the core elements of its evidence-based curriculum, continuum of care, partnerships and facilitators, and flexibility. Louise will also speak to the actions undertaken to ensure ongoing sustainability and the opportunities for expansion and lessons learned.
Professor Nancy Loucks OBE
People who maintain positive family ties while in prison are less likely to reoffend on release, but why? What is the evidence base for this, where are the gaps in evidence, and what are the risks? What do we know now, and what more do we need to know to make such an approach work in practice?
Prof Nancy Loucks OBE, who is the Chief Executive of Families Outside a Scottish voluntary organisation that works on behalf of families affected by imprisonment, received her MPhil and PhD from the Institute of Criminology at the University of Cambridge. Prof Loucks will conclude the Learning Academy session by providing an overview of the research into the benefits of supporting good parenting. She will also encourage attendees to question the context of child protection and children's human rights, arguing that children and families need to be supported and recognised as more than a tool for resettlement.