Advancing Corrections is a peer-reviewed publication that provides an interdisciplinary and international forum for the dissemination of new research, policies and practices related to advancing professional corrections worldwide. The aim is to provide an opportunity for both researchers and practitioners from a wide range of disciplines (criminal justice, psychology, sociology, political science, economics, public health, and social work) to publish papers that examine issues from a variety of perspectives in a unique, interdisciplinary forum. Advancing Corrections is intended to fill the need for researchers to speak more clearly to practitioners and practitioners to speak in a more evidence-informed way to their colleagues
Read current issues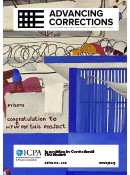 Innovation in Correctional Healthcare
This Edition of Advancing Corrections offers a mix of both research and practice discussions that speak to how healthcare provision in corrections can be transformed and improved to meet both some new and some longstanding correctional challenges. A theme that runs through many of the papers is how corrections can excel when it purposefully nourishes ways of working in partnership … with healthcare agencies, research organizations, NGOs and other stakeholders. Trying to do it alone is no longer sensible, especially as some healthcare issues have become increasingly complicated and interconnected.
Articles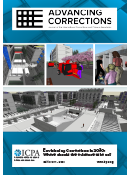 Envisioning Corrections in 2030: Where Should the Evidence Take Us?
The theme for this Edition of Advancing Corrections asked researchers and practitioners to Envision Corrections in 2030. Most of the contributors were forward looking in a positive way, presenting their vision of what corrections could and should aspire to, not as pie-in-the-sky optimism, but as evidence-informed reflection about where we should be going and how we might get there. A few contributors outlined some possible negative futures for corrections, with some legitimate analysis of the kinds of mis-directions we can take if we don't remain vigilant. Readers of this Edition of Advancing Corrections will have their own imagined futures for our field, but the papers in the Edition will hopefully help crystallize and refine those visions, and help accelerate progress towards the positive.
Articles
Read past issues