Advancing Corrections is a peer-reviewed publication that provides an interdisciplinary and international forum for the dissemination of new research, policies and practices related to advancing professional corrections worldwide. The aim is to provide an opportunity for both researchers and practitioners from a wide range of disciplines (criminal justice, psychology, sociology, political science, economics, public health, and social work) to publish papers that examine issues from a variety of perspectives in a unique, interdisciplinary forum. Advancing Corrections is intended to fill the need for researchers to speak more clearly to practitioners and practitioners to speak in a more evidence-informed way to their colleagues.
Advancing Corrections Journal (Print) ISSN: 2517-9233
Advancing Corrections Journal (Digital) ISSN: 2789-5246
Call for Papers for Issue #15 - What IS Effective Reintegration?
For this Edition, we welcome both evidence and practice-informed discussions of how the various dimensions of Effective Reintegration have been (or can be) achieved. We want to explore the variety of policies, programs, settings, services and treatments encompassed under the 'REINTEGRATION' umbrella and provide examples of successful approaches, including examples of public-private partnerships and other collaborative efforts that have overcome obstacles and inertia in implementation.
Read current edition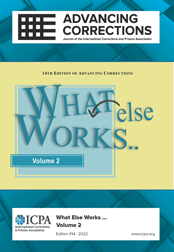 What Else Works … Volume # 2

Our last Edition of Advancing Corrections on the theme of What Else Works received a very enthusiastic response and in order to give an opportunity to other researchers and practitioners who might wish to address this theme, we decided to publish a 2nd Volume on the same theme. Once again, we would like to explore what types of programs, services, activities, policies and/or practices seem to be making a difference (or could be making a difference) even if direct evidence in affecting re-offending may not be either yet available or easily determined.
Articles
Article 11
Article 11: Providing Opportunities for New Self Identity through Work Inside Outside Prisons
In the backdrop of paucity of research in the area, this article deals with the efficacy of work related interventions on the wellness of prisoners incarcerated in prisons of Himachal Pradesh state in India. The wellness component was assessed through semi-structured interviews and indicators of wellness included increased sense of self-worth, acquisition of new personal and occupational identities, optimism, and increased comfort for reintegration on release. The challenges facing prison administration while implementing this reform intervention of "Har Hath Ko Kaam" - "Work for every hand" are also highlighted along with the benefits.

Keywords: efficacy, work related interventions, purposeful engagement, wellness, self-identity, selfworth, reintegration, prison reforms
Upneet Lalli
Article 12
Article 12: Peer Observation of Offenders on Suicide Watch: An Example of the Value of Prison Peer Support Programs
Peer support programs are an example of "what else works" in a prison setting. This article presents peer observation of suicide watches as an example peer support program. We discuss its history in the United States; structure; benefits for the individual on watch, the peer-provider, and the facility; and pitfalls/ mitigation strategies. A significant benefit is enabling staff to reinvest effort previously needed for suicide watch supervision into more complex tasks. These programs have been used effectively and safely in various correctional facilities for decades and were recently piloted in North Carolina Prisons in conjunction with the in-house Innovation Institute.
Emily G. Hazlett, PhD, Jeanine Slater, MA, Charles Mautz, MA
Article 13
Article 13: Evaluation of the Community Based Health and First Aid 'Sisters for Change' Program
The Community-based Health and First Aid (CBHFA) programme empowers prisoners to improve the health, wellbeing and safety of their prison community. Prisoners in the CBHFA programme train to become Special Status Red Cross volunteers within their correctional facility. The programme brings prisoners, prison staff and Australian Red Cross together to identify, develop and implement health and wellbeing projects for their prison community. The programme is modelled on the acclaimed Irish Red Cross Prisons Programme that won the 2011 World Health Organization Award for best practice in prison health. The CBHFA programme in Australia is currently delivered at four Australian prisons. At the Townsville Women's Correctional Centre (TWCC) in Queensland, the CBHFA programme is called 'Sisters for Change'. This article presents the key findings from an external evaluation of the CBHFA programme that showed significant outcomes for the prison community and beyond. Outcomes included that participants perceived the prison as safer, with fewer prisoner-on-prisoner assaults, and that the programme led to significant improvements in prisoner and officer relations, as well as participants feeling more hopeful and positive about the future, with boosted confidence, self-esteem and life skills. This paper outlines the key findings from Halsey and Bright's 2020 inaugural evaluation of the Australian programme and identifies factors that other jurisdictions should consider when adopting the CBHFA programme. It will be of interest to correctional policy makers and practitioners alike, as it emphasizes the value of partnerships between the community sector and correctional centres in achieving significant outcomes for prisoners, correctional institutions, and the broader community.
Rachel Montgomery, Louise Kneeshaw
Article 14
Article 14: Joint Simulation Training for Correctional Officers and Healthcare Providers in a Correctional System
In the correctional setting, correctional officers and healthcare providers become immersed in a variety of emergencies in a first responder capacity, requiring organized team approaches and aligned goals. A training gap was identified as healthcare providers and correctional officers facilitate separate training initiatives with minimal focus and education surrounding their collaborative efforts in emergency response situations. The Joint Simulation Training Program (JST) was designed to address this gap, allowing staff the opportunity to practice responding to emergencies together through simulation training. Simulation is an interactive educational technique for teaching knowledge as well as technical, clinical and behavioural skills to participants as they respond to immersive scenarios that replicate real-life events. This is the first joint experiential training initiative undertaken across Provincial Correctional Centres, in Alberta, Canada, and presumably internationally due to a paucity of existing programs in the literature. The case study presented in this paper outlines the design, implementation, and outcomes of this innovative interprofessional training program. The lessons learned from this transformative program should help shape future training initiatives in corrections education, to better prepare these interprofessional teams to work in unpredictable environments.

Keywords: simulation-based education, interprofessional training; emergency response; correctional system; healthcare
Kristin Simard, Dennis Keats, Sharon Reece, Mirette Dubé, Monika Johnson, Alyshah Kaba
Article 15
Article 15: Implementing a Smart Prison in Finland
Smart Prison is based on a new prison concept: 'prison as a learning environment for a life without crime', which is supported by digital services from a personal cell device. Finland's first Smart Prison was implemented in one prison in 2021. The cell devices include software for inside prison communication and management and a limited access to outside rehabilitative services via web-based solutions or video calls. The preliminary feedback from staff and prisoners is promising, and the concept will now be extended to all our closed prison units. Smart Prison also includes use of Virtual Reality (VR) in rehabilitation, and Artificial Intelligence (AI) related studies, prison work, and offender management.
Pia Puolakka
Basic Members can access for free Article 4: Dad HERO – Creating Opportunities for Connecting Incarcerated Men with their Children. Log in or create an account to download.
Read past editions