Advancing Corrections is a peer-reviewed publication that provides an interdisciplinary and international forum for the dissemination of new research, policies and practices related to advancing professional corrections worldwide. The aim is to provide an opportunity for both researchers and practitioners from a wide range of disciplines (criminal justice, psychology, sociology, political science, economics, public health, and social work) to publish papers that examine issues from a variety of perspectives in a unique, interdisciplinary forum. Advancing Corrections is intended to fill the need for researchers to speak more clearly to practitioners and practitioners to speak in a more evidence-informed way to their colleagues.
Advancing Corrections Journal (Print) ISSN: 2517-9233
Advancing Corrections Journal (Digital) ISSN: 2789-5246
Call for Papers for Issue #14
Our last Edition of Advancing Corrections on the theme of What Else Works received a very enthusiastic response. In order to give an opportunity to other researchers and practitioners who might wish to address this theme, we have decided to publish a 2nd Volume on the same theme. Once again, we would like to explore what types of programs, services, activities, policies and/or practices seem to be making a difference (or could be making a difference) even if direct evidence in affecting re-offending may not be either yet available or easily determined.
Read current issues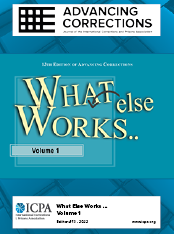 What Else Works ... Volume 1
This 13th Edition of Advancing Corrections exploring 'What Else Works …' has received an unprecedented response. We attracted more submissions than ever before for any other theme, from both the research and practitioner community, showcasing some quite varied and interesting examples of recasting correctional efforts. The response has been such that this Edition of Advancing Corrections will be the first of a two-volume exploration of the theme, with the 2nd volume scheduled for release in October, 2022. Advancing Corrections Journal #13 will hopefully contribute to a thoughtful conversation about how we might go about doing that.
Articles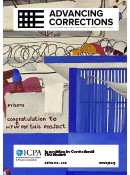 Innovation in Correctional Healthcare
This Edition of Advancing Corrections offers a mix of both research and practice discussions that speak to how healthcare provision in corrections can be transformed and improved to meet both some new and some longstanding correctional challenges. A theme that runs through many of the papers is how corrections can excel when it purposefully nourishes ways of working in partnership … with healthcare agencies, research organizations, NGOs and other stakeholders. Trying to do it alone is no longer sensible, especially as some healthcare issues have become increasingly complicated and interconnected.
Articles
Read past issues