Facility Visits
The South Australia Dept. for Correctional Services has kindly arranged two facility visits to Mobilong Prison and Adelaide Women's Prison. For those staying on after the conference you can sign-up to take part in these visits when you arrive at the venue, but please note that spaces are limited.
______________
Option 1: Mobilong Prison
Includes transport back to Adelaide via a short stop at Hahndorf Main Street.
Schedule: All times are approximate.
0830 Pick up from Stanford Plaza Hotel
0930 Arrive Mobilong Prison
1100 Depart Mobilong Prison
1130 Arrive Hahndorf Main Street
1230 Bus departs Hahndorf Main Street for return to Stanford Plaza Hotel
1300 Arrive Stamford Plaza Hotel
Details
Mobilong Prison: General Manager: Mr Michael Dent
Mobilong Prison was commissioned in 1987 and is an open campus-style facility located near Murray Bridge, an hour's drive from Adelaide. It has the capacity to accommodate 472 medium and low security males. Prisoners are accommodated in four traditional cell block units and two cottage-style units and are required to demonstrate accountability and responsibility when accessing designated areas without being escorted. The prison aims to maximise prisoner participation in a range of programs and services that are designed to develop skills and reduce the risk of re-offending. The site has a focus on rehabilitation programs, vocational training, education and employment across a range of industry business units.
The site delivers a range of vocational training programs designed to provide prisoners with skills required in the community such as, retail, kitchen operations, bakery operations, construction site white card, horticulture, fitness and wellbeing and work zone traffic management. The site offers prisoners access to various recreational activities including music and art.
Prison Industries provided at Mobilong include assembly work, wooden pallet production, a metal engineering workshop and a commercial kitchen/bakery. Several bakery products from the prison are used widely throughout the prison system and at Youth Justice facilities in South Australia. The site also participates in the retraining of greyhounds for adoption in the community, over 400 greyhounds have successfully been retrained as part of this program.
Aboriginal relations are a focus at Mobilong Prison with two full time Aboriginal Liaison Officers appointed in addition to the facilitation of the Nunga Healing Circle and the arrangement of monthly visits from guest speakers and Elders from the Aboriginal community.
Hahndorf is a contemporary village located in the Adelaide Hills with German heritage. Visitors can walk the tree-lined main street and discover local gourmet food stores, candlestick makers, souvenir shops, galleries and studios, a craft brewery, winery cellar doors, gin distillery, chocolatier, traditional sweet shops, German-style pubs, multicultural restaurants.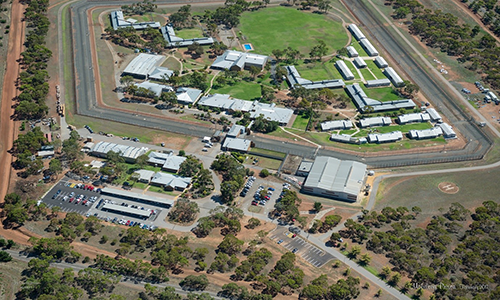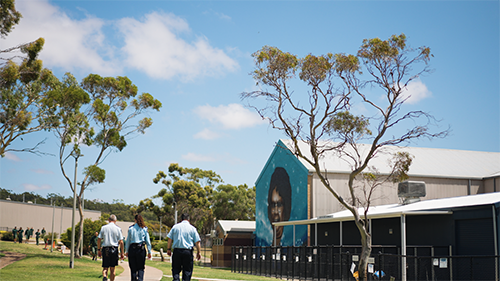 ______________
Option 2: Adelaide Women's Prison
Includes transport back via a stop at the National Wine Centre or Adelaide Botanic Garden (located next to each other). Delegates can choose to visit either location, or end the tour.
Schedule: All times are approximate
0900 Pick up Stanford Plaza Hotel
0930 Arrive Adelaide Women's Prison
1100 Depart Adelaide Women's Prison
1130 Arrive National Wine Centre / Botanic Gardens
1230 Bus departs National Wine Centre/ Botanic Gardens for return to Stanford Hotel
1245 Arrive Stamford Plaza Hotel
Details:
Adelaide Women's Prison: General Manager: Mr Kymberley Mackay
The Adelaide Women's Prison is located at Northfield, 30 minutes from Adelaide's Central Business District. The prison was open in 1969 and accommodates up to 256 females and caters for both remand and sentenced prisoners (with high, medium and low security ratings). There are 129 secure beds and a Living Skills Unit.
The Adelaide Women's Prison employs a multi-disciplinary approach to the management needs of female prisoners. Programs and services provided include crisis intervention and support services, case management, education and vocational training. A trauma informed approach underpins engagement, particularly given many women present with complex mental health and psychosocial needs.
Prisoner employment opportunities at the prison include a textiles workshop, full-time education, grounds and maintenance work, kitchen, laundry, Greyhound re-training program and generalised unit based employment. The prison's textiles workshop has a number of commercial contracts with external customers as well as making the state's prisoner clothing and undertaking community service projects. The infrastructure program for woman has been a positive and awarded program where women complete trade qualifications and engage on building works across the site. A new market garden, with a strong cultural focus and associated study is also being developed. The prison also operates an expanded pre-release program for women.
Partnering with businesses and Job Network agencies within the community, eligible offenders complete both relevant industry vocational certificate studies and participate in work within the prison before transitioning to Job Networks and successfully gaining employment before their release.
The prison provides a range of educational programs with literacy and numeracy studies actively encouraged. Several vocational studies are also delivered at the Adelaide Women's Prison including Certificates in Garment Construction, Commercial Food Production, Business Studies and Women's Studies. Women also have access to the Stepping Stones program which is a criminogenic program specifically developed for women.
In 2019, an AU$21.15 million upgrade at the prison was delivered including a new Health and Wellbeing facility, Admissions Building and 40 additional high-security beds. Also as part of the upgrade, DCS committed to create a short-stay live-in facility, the 'Mothers and Infant Program'. A new reception centre, visits and community hub are nearing completion at the site.
The National Wine Centre is the national showcase for the Australian wine industry. Visitors can learn (and taste) the history of the industry in Australia. The site includes a bar and restaurant, with over 120 wines on offer (tasting costs per person vary).
Adelaide Botanic Garden
The Adelaide Botanic Garden was opened in 1857 and is an oasis in the middle of the city. It spans 50 hectares and features some of Australia's finest plant collections.