Join us and the
European Organisation of Prison and Correctional Services (EUROPRIS)
in Istanbul from 24 – 26 April 2024, for the first global Innovative Prisons Infrastructure Conference (IPIC):
''Sustainable Planning and Design for Better Corrections'
', hosted hosted by the Turkish Ministry of Justice and the General Directorate of Prisons and Detention Houses, and delivered in partnership by the International Corrections and Prisons Association (ICPA) and EuroPris.
The planning and design framework has changed substantially during recent years. IPIC presents a new opportunity to bring experts in the field of prison planning and design together to improve our understanding of how modern planning and design knowledge can be seen by correctional professionals as a driver for change.
Through IPIC, participants will connect and share insights, lessons learned, and information relating to new developments and projects where innovative design solutions are used to help corrections to address issues facing prisons and probation today. The conference will also provide significant networking opportunities to build connections and allow participants to improve their understanding of the use and implementation of advanced planning and design solutions.
Register soon! Early Bird tickets expire on 29 February 2024!
Registration
Early Bird Rate: €475/pp
Public sector, academic, non-profit: €425/pp (Email Catalin Ungureanu at

[email protected]

to request a discount code)

* Additional evening activities, sponsored by the General Directorate of Prisons and Detention Houses in Türkiye are included in the ticket prices (more details to follow).
Programme Overview
Wednesday, 24 April: Prison Visits (Optional) and Welcome Reception
Thursday, 25 April: Conference Day One
Friday, 26 April: Conference Day Two
Accommodation
The official venue and hotel for the TIC and IPIC is Hilton Istanbul Kozyatagi. Located in the business district of Istanbul's Asian side surrounded by restaurants and shopping, with Yenisahra Subway Station within a kilometre, providing access to the coast and the city's European crossing. Hilton Istanbul Kozyatagi welcomes guests with a special rate of 201EUR / night (Breakfast Included). Please note that the spaces are limited, so hurry up to secure your room.
Sponsorship & Exhibition
We are currently accepting expressions of interest for both sponsorship and exhibition opportunities
. The TIC and IPIC conferences will include an exhibition area with a limited number of tabletop booths available for showcasing products and services to an international audience. Please email Natalie Boal, Executive Director ICPA, at
[email protected]
to find out more about different sponsorship packages.
Contact our Team
Do you need any help or assistance in your preparations for attending the Innovative Prisons Infrastructure Conference? Please contact a member of our team and we will be happy to assist!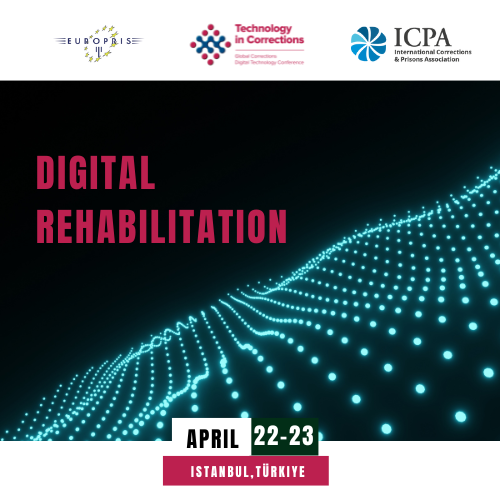 Before the IPIC conference, the fifth Technology in Corrections Conference (TIC): 'Digital Rehabilitation', will take place from April 21st to 24th, 2024. We have prepared a Combo Ticket that grants you access to both the TIC and IPIC conferences:
Early Bird Rate: €850/pp
Public sector, academic, non-profit: €800/pp (Email Catalin Ungureanu at

[email protected]

to request a discount code)